France
Lexus SC430 Hardtop Convertible
This album contains photos of my Lexus SC430, which I have put up for sale.
Published by Dr Jiulin Teng on 08 Jun 2022 · Updated on 08 Jun 2022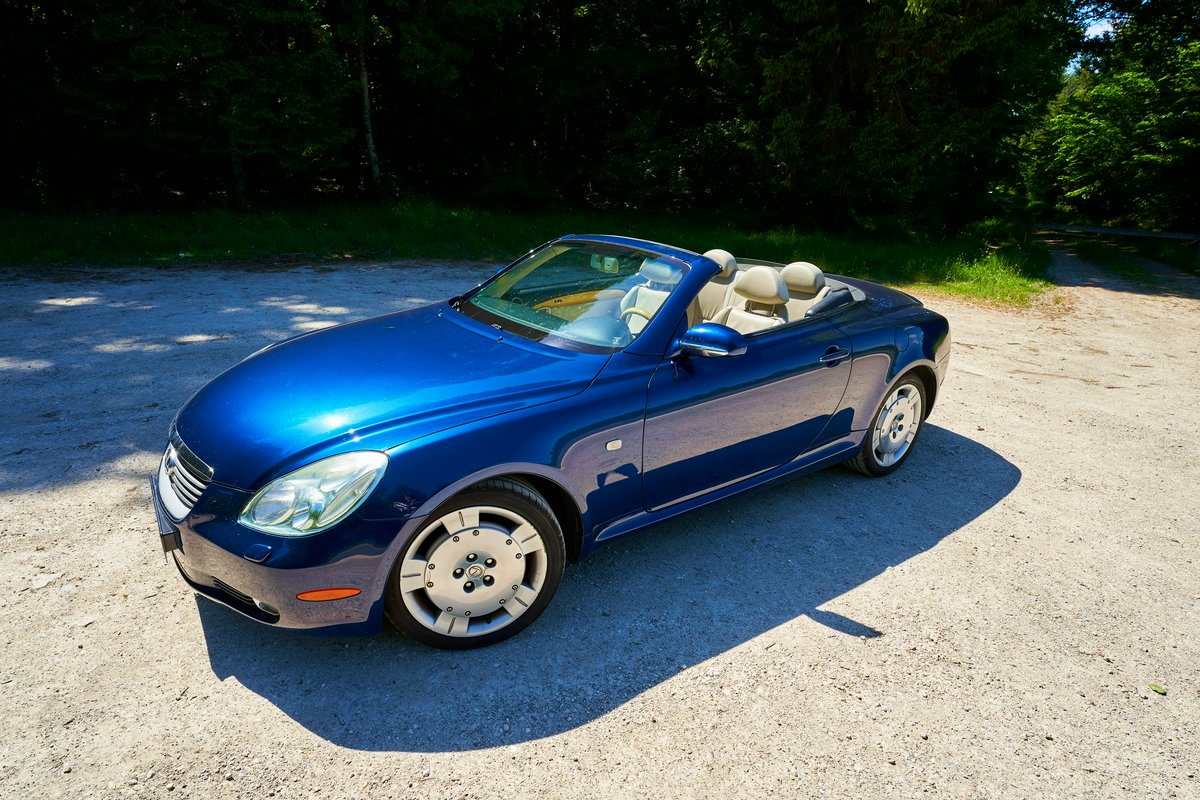 I'm selling my 2003 Lexus SC430 in Indigo Ink Pearl with ecru interior. This post includes a photo album as well as two videos, one in English, one in French, that I have taken of the car. The car has just passed an annual checkup in June 2022 and can be registered directly in Europe.
SERVICE HISTORY
This car is fully made in Japan. It was first registered in July 2003 in Italy. Owned by an elderly gentleman till I purchased it in January 2016, the car followed all factory recommended services, including transmission and differential services (which are often overlooked).
During my ownership, I went beyond factory recommendations with 6000 km / 6 months oil changes with original Toyota oil filter + fully synthetic oil (13 oil changes in 6.5 years; all receipts). I used Mobil 1 ESP 5W30 at first; more recently, I used Motul 8100 X-CESS 5W30 for its superior TBN and sulfated ash levels. The car does not leak or burn any oil at all!
I changed the transmission fluid frequently with Toyota Type IV or Mobil ATF 3309, which is the OEM version of the same thing (Aisin used ATF 3309; Toyota just stuck its label on it). The transmission fluid has always been cherry red. The transmission shifts extremely smooth. It is smoother than all the higher-speed new cars that I've driven.
I also changed the coolant very frequently, always with the red Toyota Long Life directly from the dealer. This is the only approved coolant for the water pump and the engine block of the 3UZ.
Many other services were done, but almost no repair needed at all!
In 7 years, I never even had to replace a single bulb on this car, because the quality of electronics is the highest level from Japan. Going forward, I'm sure that with good maintenance the car can easily do another 200k kms without drivetrain repairs. With dedication, the original engine can certainly reach 1 million kms.
I have also kept all the 200+ gas slips during my ownership. I used almost exclusively Total's Excellium SP98 unleaded petrol. I've scanned all the receipts and gas slips. All these will be handed to the new owner.
I'm only selling this car because I need to leave Europe this year.
I have Toyota Techstream and can customize the dealer-exclusive settings for the new owner. I also have some specific tools to service this car that I can give the new owner for free.
OVERVIEW OF SC430
The Lexus SC430 or SC 430, chassis code Z40, is also known as Mk4 Toyota Soarer. Unlike the original SC300 / SC400 coupe, Lexus adopted the hardtop convertible / coupe cabriolet body style.
According to ReliabilityIndex, the SC430 is the 2nd most reliable convertibles of all time, just behind the Mazda MX-5. Its repair-cost index is just 1/5 of the Mercedes R230 SL500.
The car uses a combination of 3UZ-FE 4.3L DOHC naturally-aspirated V8 with VVT-I and Aisin A650E 5-speed automatic transmission: The 3UZ-FE is a more efficient update to the 1UZ-FE; it has more torque down low and is more drivable. The A650E is exceptionally reliable and smooth. About 60% of the engine sits behind the front axle, which gives it a rather balance weight distribution, better than the comparable R230 Mercedes SL500 and E64 BMW 645Ci.
The SC 430 uses double-wishbone front suspensions with multi-link (5-link) rear suspensions. Though its ride can be harsh with runflat tires, once I switched to standard summer tires, the ride and handling improved dramatically. It is a much better car than a lot of the early reviewers gave it credit for.
The SC430 has a simple, elegant front end that will likely age better than the spindle grille found in newer Lexus vehicles such as the LC500, the successor to this car.
Reportedly, the SC 430 is the quietest convertible of all at its time, thanks to its aerodynamic design. The hardtop is fully electrical. It does not use hydraulics, as many European / German cabriolets do. The electrical top is maintenance free.
Inside, the touch screen (with DVD navigation) and the audio player (with Mark Levinson sound system) can be hidden away in wood-trimmed doors. This gives the car a clean, elegant look that never gets old.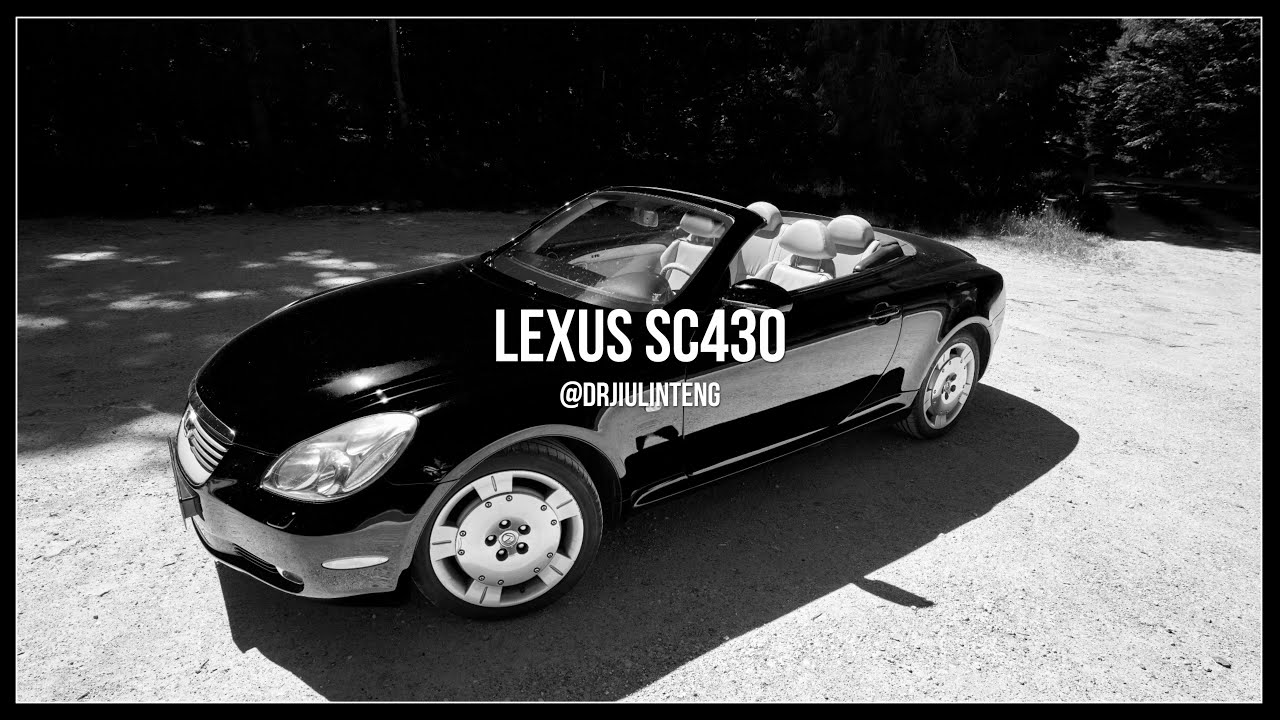 HISTORIQUE D'ENTRETIEN
Cette voiture est entièrement fabriquée au Japon. Il a été immatriculé pour la première fois en juillet 2003 en Italie. Il appartenait à un monsieur âgé jusqu'à ce que je l'achète en janvier 2016. La voiture avait suivi tous les services recommandés par l'usine, y compris les services de la BVA et de différentiel (qui sont souvent négligés).
Lors de ma possession, j'ai dépassé les recommandations d'usine avec l'entretien. J'ai fait des vidanges tous les 6000 km / 6 mois, toujours avec filtre Toyota d'origine et huile 100% synthétique (13 vidanges en 6,5 ans ; toutes les factures). J'ai utilisé Mobil 1 ESP 5W30 au début ; plus récemment, j'ai utilisé Motul 8100 X-CESS 5W30 pour ses niveaux supérieurs de TBN et de cendres sulfatées. La voiture ne fuit pas et ne brûle pas du tout d'huile !
J'ai fréquemment changé le liquide de la boîte de vitesses automatique avec Toyota Type IV ou Mobil ATF 3309, qui est la version OEM de la même chose. Le liquide de la BVA a toujours été rouge cerise. Ses changements de vitesse sont plus fluides que toutes les nouvelles voitures à plus grande vitesse que j'ai conduites.
J'ai également changé le liquide de refroidissement très fréquemment, toujours avec la Toyota Long Life rouge directement du concessionnaire. C'est le seul liquide de refroidissement approuvé pour la pompe à eau et le bloc moteur du 3UZFE.
De nombreux autres services ont été effectués, mais presque aucune réparation n'a été nécessaire ! En 7 ans, je n'ai même jamais eu à remplacer une seule ampoule, car la qualité de l'électronique est au plus haut niveau du Japon.
À l'avenir, je suis sûr qu'avec un bon entretien, la voiture peut facilement parcourir 200 000 km supplémentaires sans réparation du groupe motopropulseur. Avec dévouement, le moteur d'origine peut certainement atteindre 1 million de kms.
J'ai également conservé tous les 200+ bordereaux d'essence pendant ma propriété. J'ai utilisé presque exclusivement de l'essence sans plomb Excellium SP98 de Total. J'ai scanné tous les reçus et les bordereaux d'essence. Tout cela sera remis au nouveau propriétaire.
Je ne vends cette voiture que parce que je dois quitter l'Europe cette année.
J'ai Toyota Techstream et je peux personnaliser les paramètres exclusifs du concessionnaire pour le nouveau propriétaire. J'ai également quelques outils spécifiques pour entretenir cette voiture que je peux donner gratuitement au nouveau propriétaire.
APERÇU DU LEXUS SC 430
Le Lexus SC430 ou SC 430, code de châssis Z40, est également connu sous le nom de Mk4 Toyota Soarer. Contrairement au coupé SC300 / SC400 d'origine, Lexus a adopté le style de carrosserie coupé cabriolet / coupé à toit rigide.
Selon ReliabilityIndex, le SC430 est le 2e cabriolet le plus fiable de tous les temps, juste derrière le Mazda MX-5. Son indice de coût de réparation n'est que de 1/5 de celui de la Mercedes R230 SL500.
La voiture utilise une combinaison de V8 atmosphérique DACT 3UZ-FE de 4,3 litres avec VVT-i et BVA Aisin A650E à 5 vitesses : Le 3UZ-FE est une mise à jour plus efficace du 1UZ-FE ; il a plus de couple à bas régime et est plus facile à conduire. L'A650E est exceptionnellement fiable et fluide. Environ 60% du moteur se trouve derrière l'essieu avant, ce qui lui donne une répartition du poids plutôt équilibrée, meilleure que les comparables R230 Mercedes SL 500 et E64 BMW 645 Ci.
Le SC 430 utilise des suspensions avant à double triangulation avec des suspensions arrière multibras (5 bras). Avec des pneus d'été standard (pas de runflat), il est plus confortable et se comporte mieux que ce que beaucoup des premiers critiques lui ont attribué.
Le SC430 a une partie avant simple et élégante qui vieillira probablement mieux que la calandre fuselée que l'on trouve dans les véhicules Lexus plus récents tels que le LC500, le successeur de cette voiture.
Apparemment, le SC 430 est le cabriolet le plus silencieux de tous à son époque, grâce à sa conception aérodynamique. Le toit rigide est entièrement électrique. Il n'utilise pas d'hydraulique, comme le font de nombreux cabriolets européens / allemands. La capote électrique ne nécessite aucun entretien.
A l'intérieur, l'écran tactile (avec navigation DVD) et le lecteur audio (avec système audio Mark Levinson) peuvent être cachés derrière des portes en bois. Cela donne à la voiture une allure propre et élégante qui ne vieillit jamais.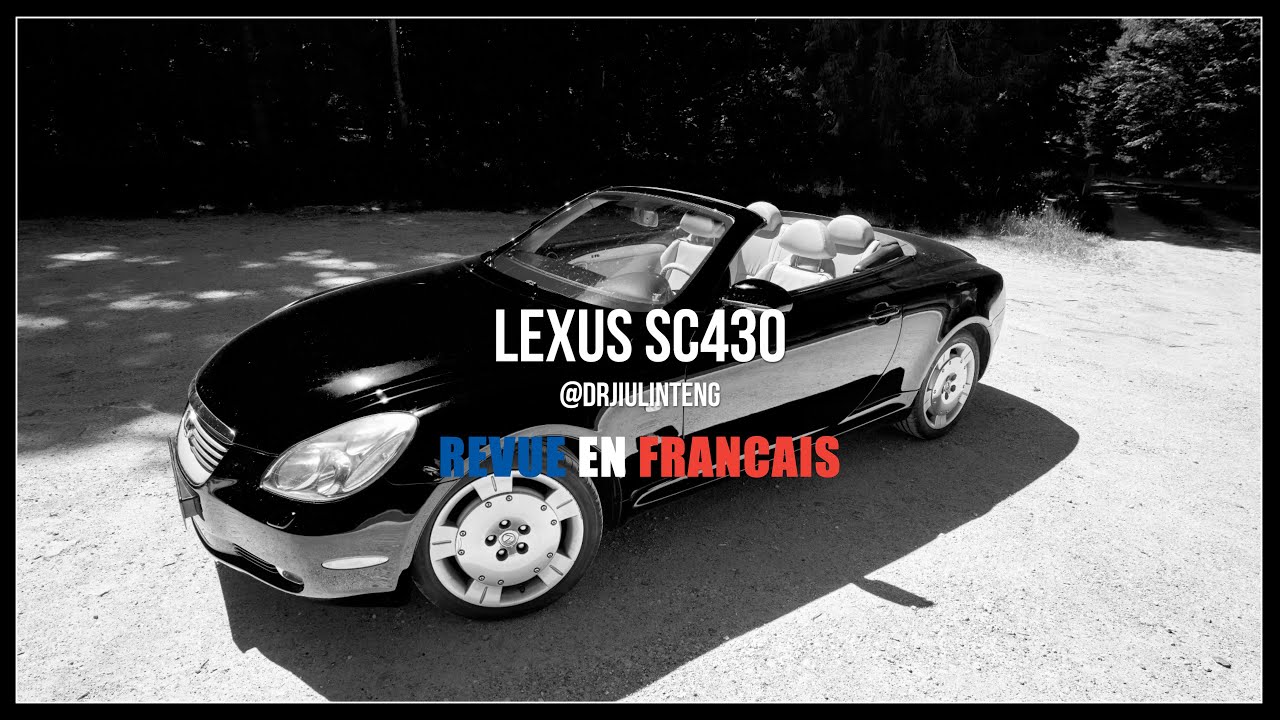 Gallery: Lexus SC430
France